We're the experts in Fun Wedding Casino Hire
Make your wedding memorable with a Wedding casino.
The wedding day is probably the most unforgettable day in a couple's life. And every couple will make every effort to ensure it is a grand success. One of the several amazing things you can do to make your wedding the talk of the town is to make provisions for different forms of fun and entertainment. From the many types of wedding entertainment to choose from, having a Wedding Casino set up for your guests will most certainly be a great and an exceptional addition to your party. A fun casino provides hours of fun for all your guests.
The Wedding Casino is strictly for fun and helps in breaking the ice and warming up the guests before they hit the dance floor in full flow. The atmosphere provided by the fun casino is similar to a real land casino. You have the expert croupier, music, and real players. With a fun casino, the fun factor increases since nobody loses money here. Even before the couple leaves for their honeymoon, they get to play their share of rounds along with the support of professional croupiers.
Playing a Wedding Fun Casino
Sadly, a fun casino does not allow playing with real money, but rather, "fun money" which is exchanged at the casino tables for chips. The top 3 players that have the most chips at the end of the night wins a prize. This encourages the crowd to play with more eagerness. We supply 3 basic prizes, which can be upgraded if needed for a fee. We have some fabulous casino hire games to choose from.
Personalising Wedding Casino Hire
The couple can request that the fun money and the chips be personalised to suit their wedding.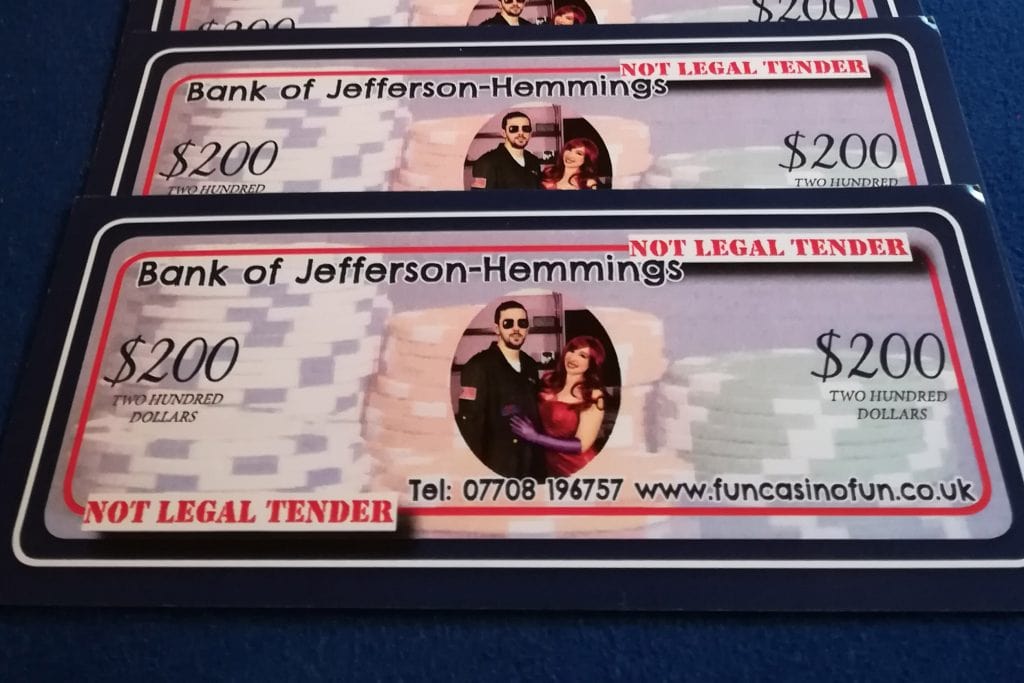 The Duration For A Fun Casino For A Wedding
Most fun casinos last for 3 hours, but there could be breaks during major activities like the couple's first dance, cake cutting, and wedding toast. Fun casino hire above 3 hours will attract reasonable extra charges.
Wedding casino hire
Wedding Casino Hire is becoming very popular nowadays. If you are considering one for your wedding, some of the things you need to look for include the quality of equipment.
Hiring a reliable fun service provider will help you organize a theme that will add fun to your wedding. Looking to hire a wedding casino with ease? Fun Casino Fun should be your top choice! Contact us here now for more inquiries or booking.
Having a Fun Casino at your Wedding is the right decision.
We've experienced lots of weddings in the past and we're sure we can help entertain your guests.
Some of the fabulous companies we've worked with.
ABOUT US
A Fun Casino is an incredible way of entertaining your guests at parties, wedding receptions and more. Experience Wiltshire's Best Value for Money Casino Hire. Our hire company covers Bath, Bristol, Swindon and many more.

CONTACT
Head Office:-
80 Devon Drive
Westbury
Wiltshire
BA13 3XQ

© Copyright 2019 – Fun Casino Fun